Ductless Mini-split Systems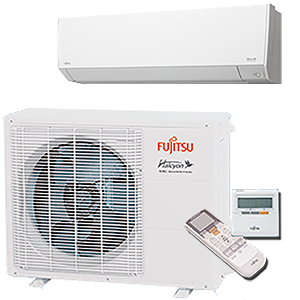 Fujitsu General is driven to provide homeowners with heating and cooling systems that feature the latest innovations and technologies available on the market – ensuring optimal home comfort for your family and friends. Ductless comfort, air filtration systems, cutting-edge Inverters, and user-friendly controls, are just a few of the advantages offered by our systems that support our ongoing customer commitment. Rest assured that you will enjoy maximum energy-efficiency, customization, convenience, and air quality for many years to come.
Fujitsu General AIRSTAGE Ductless Mini-split Systems offer a variety of technological features geared toward maximum comfort and unsurpassed energy efficiency. Features may include wireless remote control, ion deodorizing filters, sleep timer, 24-hour timer, dry mode, 4-way auto louver (for air flow direction) and auto mode. Fujitsu General's ESP (energy saving program) conserves energy even when users aren't paying attention, since motion sensors note when a room has been vacated. After 20 minutes, the set temperature is increased by 4°F when in cooling mode, and reduced by 8°F when heating. When the room is reoccupied, the ESP returns to the previously set operating mode.
Fujitsu Alternate Indoor Ductless Units