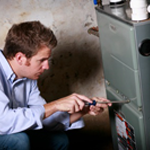 Emergency Repair Service Hotline: (508) 297-3900
No A/C? No Heat?
Refrigerator, Dishwasher, Clothes Washer or Dryer not running?
No Problem, call Ecco anytime for expert repair with OEM parts!
As licensed contractors and specialists in the field of heating, air-conditioning and appliance repair, we have the tools, the equipment, and the experience to keep your equipment running smoothly all year long. To help reduce those service emergencies, we offer service agreements to keep your comfort system running at peak performance.